Rings That Restore Lives!
How many times have you had to remind your best friend that she is perfect just the way she is? Or your daughter that everything inside her is beautiful, in a way that will change the world? And honestly, how many times have you needed those kinds of reminders yourself?
Sometimes it takes a sister, a mom, a best friend, or even a decision within your own mind, to remind yourself: You are ENOUGH. You are STRONG. You are BEAUTIFUL. Your WILD heart is WELCOME. Every day you are BECOMING more of who you are meant to be. Your dreams to make this world a better place are exactly what we need.
Ring True is a company built to support this kind of sisterhood. We work with young survivors who have been rescued out of human trafficking. This beautiful crew of young artisans has a safe place to live and a community of support surrounding them. They are able to thrive because they have a sustainable livelihood as makers because of your support.
The heart of Ring True is fearless love of the person you are, without the need to change a thing. That is what we want all the survivors who make our rings to know, and every person who wears them to feel in their hearts. I sincerely hope that you feel that message radiate from this community as you look around our site and find some words that 'Ring True' for yourself and for whoever else you're shopping for. And, you can rest assured knowing that your purchase is helping these young survivors live a beautiful life full of hope. Keep your head high today! 
Thank you SO MUCH for supporting this community of survivors!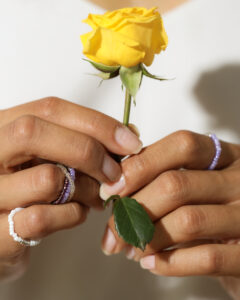 Ring True is committed to providing sustainable work opportunities for human trafficking survivors. In addition to providing work that allows young survivors an income while in the process of healing, Ring True is also committed to giving back a portion from every purchase towards local US based organizations that are helping the world be a better place!