Choose a ring.
Find your voice.
Empower others.
Choose rings with messages that resonate with you, all while supporting the livelihood of a community of young women who have been rescued out of human trafficking. When you purchase rings with us, you are restoring young lives!
Every purchase supports a survivor on her healing journey!

Child Rings
You've asked and we've heard you!! Fidget style rings are now available in child size for the littles in your life.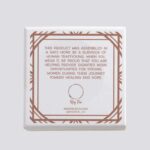 BRACELETS!
Your bracelet will come in a custom jewelry box that explains the mission of our company. Whether you are keeping it for yourself, or giving it as a gift - the beautiful packaging serves as a great reminder that you are changing someone's life through your purchase!