Ethically Made
Employing Survivors
Pursuing Hope.
Choosing to shop with purpose is something everyone can do to create a better world. Shopping with us means you are supporting the livelihood of a community of young women who have been rescued out of human trafficking. When you join this community, you are restoring young lives!
Every purchase supports a survivor on her healing journey!

NEW: Emotional Support Buddies!
(fun for kids and adults)
Each buddy comes with an uplifting handwritten note from a survivor.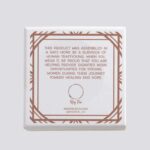 BRACELETS!
Your bracelet will come in a custom jewelry box that explains the mission of our company. Whether you are keeping it for yourself, or giving it as a gift - the beautiful packaging serves as a great reminder that you are changing someone's life through your purchase!